HPS IBIZA
PROFESSIONAL AUDIO SYSTEMS
PEQUOD ACOUSTICS
EXCLUSIVE SPAIN DISTRIBUTOR
HPS IBIZA exclusive distributor for Spain of Pequod Acoustics professional audio systems, is always looking for perfection in sound reproduction.
Pequod Acoustics audio systems have a remarkable visual impact. Their rounded shapes, their large dimensions are distinguished from traditional loudspeakers.
The strong colors and shape of the structure was created by the sound itself.
The Pequod Acoustics brand is Italian and starts in Florence, where the speakers are designed, engineered and then built, bringing innovative Hi-Pro solutions to the world of loudspeakers.
This is why its products are so light and have such a favorable relationship between sound pressure level and structure weight. In addition, they have a very low cost-to-sound pressure ratio
The Pequod Acoustics philosophy is easy to tell: no compromises, tireless research and special solutions. There are certainly not many single horn speakers in the professional audio system sector.
But a single horn speaker, when coupled with transducers in specific sound frequencies, allows for high dynamics, combined among other things with a high sound pressure level and very low distortion levels.
In other words, Pequod Acoustics speakers are perfect for a club or for any type of event where the music must play loud because they do not distort the sound as the power increases.
Pequod Acoustic loudspeakers derive from a research that took many years of passion and were officially presented in Ibiza in 2020. They make some of the most exclusive clubs, events and locations in the world dance; some very lucky villa owners use them for pure personal pleasure ....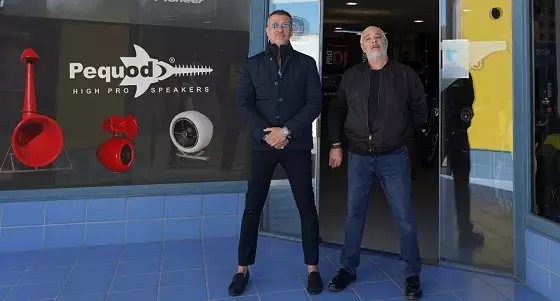 Our main goal is to offer our clients an exceptional sound experience, from large scale events to concerts, club parties, small intimate expanses or private villas.
This is what we simply call "auditory ecstasy". With Pequod Acoustics products, Made in Italy grows internationally by combining design, professional audio and great sound quality.
They arise from a long research over the years and are made of fiberglass.
The main activity of Hps Ibiza is to offer the best, with a wide range of professional audio services in the same place and remotely, from planning to technical consultancy,
specially built to ensure the highest possible acoustic clarity.
Our units were created by our engineers to ensure pure and essential sound perfection.
If your intention is to make your customers, followers or simply your best friends feel special, Hps Ibiza is your ideal partner to make your wish come true.
HPS IBIZA professional audio systems born in Italy, but professionally grown in the international backstage, HPS IBIZA is the acronym of HI and HIGH PRO SPEAKERS IBIZA.
The DNA of "Hi-pro speaker ibiza" can only be that of major events. Exclusive distributor in Spain since autumn 2020, Hps Ibiza is part of the revolutionary Italian company Pequod Acoustics which,
after a few years of refinement and experimentation, have an international distribution in Europe, Asia and America.
IBIZA HPS professional audio systems focus on prioritizing the needs of their customers, together with the rent, distribution, design, installation,
sales and assistance activities together with the "Touring / Rental" sector, with multiple assemblies of professional audio systems in pursuit of the highest possible quality.
Do you need a professional speakers audio systems? Contact HPS Ibiza to rent, buy, discuss an idea for a sound system or a new project.
Do you want to get the most out of our products, do not hesitate to contact us, we are ready to help you.
Request a quote, it's free and without obligation.